Balloon in Tuscany is one of the few balloon operators in Europe, the only one in Italy, with a balloon basket that provides hot air balloon flights for disabled passengers. The "easy access" basket has a ramp, allowing people in a wheelchair to "get their wings" safely by balloon. Now those confined to a wheel chair can share the magic of an Italian balloon flights experience.
Our easy access balloon basket designed in partnership with Lindstrand Balloons has panoramic windows at eye level for the wheelchair passenger.
Our hot air balloon flights in Tuscany over Chianti, Siena, San Gimignano and Florence are available for everyone!
BOOK NOW A HOT AIR BALLOON RIDE FOR DISABLED PEOPLE
Remember to specify in the form that you are booking the flight for disabled people
How it works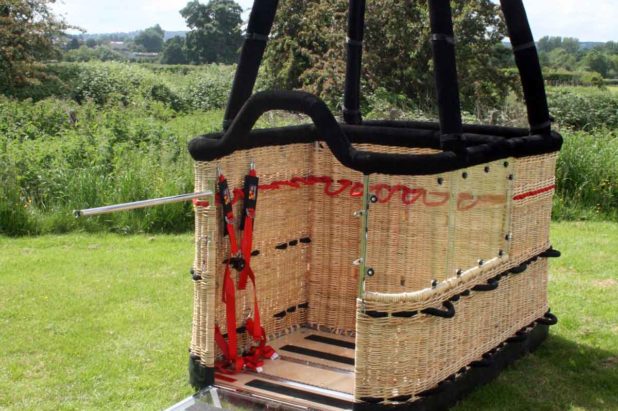 The basket, two metres wide, can accommodate a wheelchair, which is secured, the pilot and two passengers. The flights, weather permitting, beginning early in the morning, when the winds are at their lightest.
"The real motor is just currents of air" says the pilot, Stefano Travaglia, who has 25 years of flight – hot air balloons are not directional. You know where you go, but you can only predict roughly where you get.
Testimonials. The story of Wendy and Balloon in Tuscany
Wendy has traveled over two thousand kilometers from the Isle of Man to Chianti to perform the second balloon flight of her life. The first one a year ago among the green Tuscan hills. "I had never been in Italy – she says – I came specifically to get into a balloon as in England there is no such possibility. A great feeling of freedom, is what I felt the first time I got up in the air – remember Wendys -. I was not afraid, I was rather excited. Being able to do something like everyone else, like the so called 'normal', was a unique feeling.
It's as if my disability had been canceled. Now my three sons envy me". This special basket has been created by English balloon manufacturers Lindstrand. "It took several attempts – says Simon Forse, the engineer who designed the structure – Before we had designed a basket with a transparent floor. The second was equipped with a ramp, but the disabled passenger could not see the panorama. Then we got to the final version – with a folding ramp and a transparent 'window' that allows the sitting passenger to admire the landscape".
Video
Flight experience of one of our passengers
Flight information
One person must accompany the wheelchair passenger on the flight and you must provide your own wheelchair vehicle and driver to follow our balloon crew to transport your group after the flight.
Fill out the form on the side indicating to our information, requests or special needs, we will be happy to answer them and organize together with you an unforgettable flight experience.